Can I book on STROLLÿN with the current COVID-19 situation?
Due to the current situation, STROLLÿN will be postponing any travel bookings for the moment. Although some areas are still allowing travel to neighbouring cities or countries, it has been mentioned that it is best to hold off on any non-essential travel, according to CDC recommendations. Therefore, in following this guideline, it is in hopes of these stricter social distancing measures that are in place, that we will all soon be able to travel, explore, discover, and visit places in confidence; not in fear.

We are constantly monitoring the travel restrictions and recommendations globally, and hope to have good news soon. In the meantime, the Beta is still on! All other functionalities of the beta are functioning. So go ahead, create your account today and start exploring your next local travel destination.
What do I need in order to host someone in my home?
All you need is a home with a great workplace and flexibility from where you can work. As a fellow remote worker, your place is set up in a way where you can comfortably work from there; meaning someone else can probably comfortably work from there as well. And now through STROLLÿN you can share that!

Don't forget to ensure you check your subletting/hosting regulations of your contract. You may need to check with your landlord or leasing officer if you are able to host friends or guests for non-monetary exchanges.
What if I don't have enough

STROLLÿN nights

for my stay?
STROLLÿN has a concept of fair nights. This is where you borrow specific number of nights from the community with the promise that you will give it back by hosting in the future. Everyone will have the ability to borrow up to 5 fair nights at a time. This enables the STROLLÿN community to be as health and a self-autonomous community of exchange.

Lastly, your community profile will also have a STROLLÿN score that is calculated by the number of nights you hosted and the number of nights you've been hosted. You'll want to keep that number high ;)
What is a

STROLLÿN Score

?
Your STROLLÿN Score is an indicator of your involvement in the community. Like any community, this community thrives when each member both gives and takes from it. This, the STROLLÿN Score is computed with the number of nights you host vs. the number of nights you have been hosted.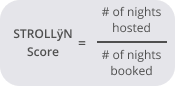 How can I be sure that I can work from someone else's place?
Every member that adds their place on STROLLÿN we will asked a set of key workplace questions such as wifi speeds, desk equipments, photos, etc. This then is part of their public profile. So you will be able to check out the other's workplace standards prior to booking if they meet your standards.

The basis of the STROLLÿN community is that we are all remote friendly professionals that love to travel.
What if I am not comfortable hosting people I do not know?
STROLLÿN uses a combination of social network connections, membership vetting and user profiles and ratings to ensure that you have enough information to either accept or refuse a potential hostee in your home. Last but not least, we are all just working professionals looking for some high speed internet, good coffee and a place to sleep; a.k.a., harmless.
Is it really free accommodation?
Since our goal here is to enable spontaneous and more frequent travel integrated in your regular routine, we understand that cost may be a large barrier to that. And the lodging cost can be, on average, THE highest cost, depending on the length of the stay.

That is why STROLLÿN aims to decrease the overall cost of travel by removing the majority of the lodging cost through a shared economy approach and the use of digital currencies (aka STROLLÿN Nights).
Do I need to offer my entire home?
No. If your place is set up in a way where you can provide another working professional(s) good working and living conditions while still being present in your home, that is perfectly fine. Not every person looks for only entire homes, so your home will be provided as a match in those cases.
What if I cannot host people in my home?
If you like STROLLÿN but still think that it is not a good match right now, or unsure you can participate, let us know why. We might have you already covered or if not, maybe something we can work on together for the future. Contact us with your thoughts and concerns and we'd love to hear from you:

Contact Us